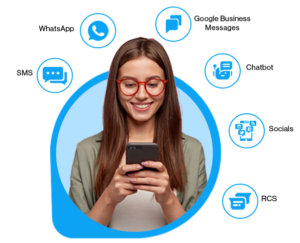 Unlike the world, the Holiday season is no time for marketers to chill or unwind!
After all, it is when maximum action happens with customers.
But holiday marketing is not what it used to be! Customer touchpoints have changed, and so has their purchase behavior. You must be well equipped with all the right marketing tools to capture today's customers on different channels at different buying stages.
To solve this puzzle for you, we have designed a comprehensive guide Holiday Marketing 101: Marketer's Guide for Omnichannel Messaging, which dives deeper into tips and exhaustive marketing use cases that help you pick the right channels at the right time for the right customers.
Here's all that it covers,
  Integrating new-age messaging platforms into marketing campaigns
  Picking the right nudges for different purchase stages
  Planning omnichannel marketing campaigns and triggers
   Achieving personalization with PACKET approach
  Identifying the right customer engagement partner