Wish to reach out to customers about a new range of products? Want to draw their attention to a special discount sale? What's the best way as a brand to connect to your customer base in today's time? You turn to WhatsApp. If you want to update a colleague about a work situation, you turn to WhatsApp again. Finally, you have a company – WhatsApp that has been used by over two billion users across the globe. In fact, WhatsApp became only the second app from Meta's stables to enter the elite two billion user club.
Data shows that over 175 million WhatsApp users reach out to a business every day. Following such extensive use, it was only a matter of time for WhatsApp to launch an API (application programming interface) to enable businesses to communicate with customers exclusively. (Source: Techcrunch) WhatsApp API was launched in 2018 as a revenue generating enterprise product.
Thanks to WhatsApp for business and WhatsApp API, a growing number of businesses have now been using the platform to enhance customer engagement. The proof is in the numbers – WhatsApp reportedly has more than 50 million users for its business platform, out of which India alone has more than 15 million users every month. Statistics also show that one million business catalogs on WhatsApp are from businesses based out of India, making up for one-eighth of the overall business catalogs on the business messaging app.
While WhatsApp for business is a free app designed for small businesses, the WhatsApp API is used by medium and large businesses. The latter has more extensive features and can be accessed via a third-party WhatsApp API solutions provider.
So, why are businesses opting for WhatsApp API? The answer is simple – a superior customer experience. The elements that boost customer experience include the capability to run campaigns, employ chatbots and also run third-party APIs, all thanks to WhatsApp business API.
Automating Contact Centers with WhatsApp for Business Platform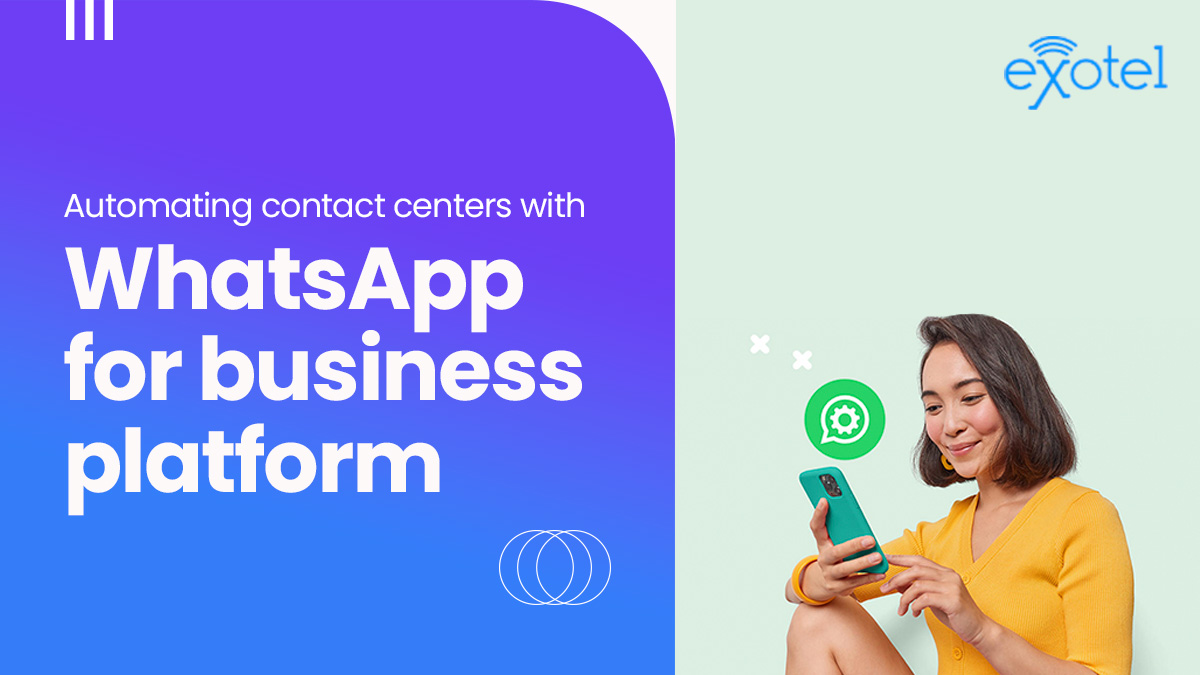 To serve up a superior customer experience, you would need to take a close look at the contact centers. The contact center is where all customer interactions across channels are managed. Automating your contact center by integrating WhatsApp API minimizes repetitive manual tasks and lowers call volumes.
Here are ways in which you can automate your contact center:
Using the dynamic WhatsApp business API platform, you can deploy chatbots to automate customer text and voice interactions. According to a Gartner survey conducted in July 2022, chatbots will emerge as the "primary customer service channel" for all organizations by 2027. Let's look at ways in which WhatsApp chatbot can help boost your CX:
1. One way contact centers can become more efficient and seamless is by lowering the work load of agents. Automation by way of deploying conversational bots that can resolve queries and direct customers to FAQs is beneficial for agents and customers. A self-service contact center makes use of automation tools such as bots and widgets to ensure faster resolution of queries. According to a McKinsey study on the state of customer care in 2022, 65 per cent of business leaders have noted that improved self-serve has driven decreased call volume.
2. Thanks to AI-powered WhatsApp API, contact centers can gain insights about customer journeys and preferences. In the absence of chatbots, processing and gaining insights manually would require massive time and manpower.
3. WhatsApp chatbot can enhance product discovery by showing product catalogs to potential customers. You can boost interactivity by allowing customers to reach out to you via WhatsApp chat about the product/service they are looking for. Your automated responses can handhold customers through the choices available and offer recommendations based on  interactions.
For instance, a customer wants a black shirt– your chatbot can be automated to ask if they want a black cotton shirt or a black printed shirt and so on. Then your bot can provide options and guide them seamlessly through the checkout and payment process.
4. Thanks to WhatsApp API, automation of contact center tasks such as notifications during peak hours, sending reminders or sharing the status of a customer's order can help businesses enhance customer experience. Another example of automation of contact center tasks through WhatsApp API would be sending out notifications on discounts or special weekly offers on select products.
Other ways to boost CX strategies through WhatsApp for business platform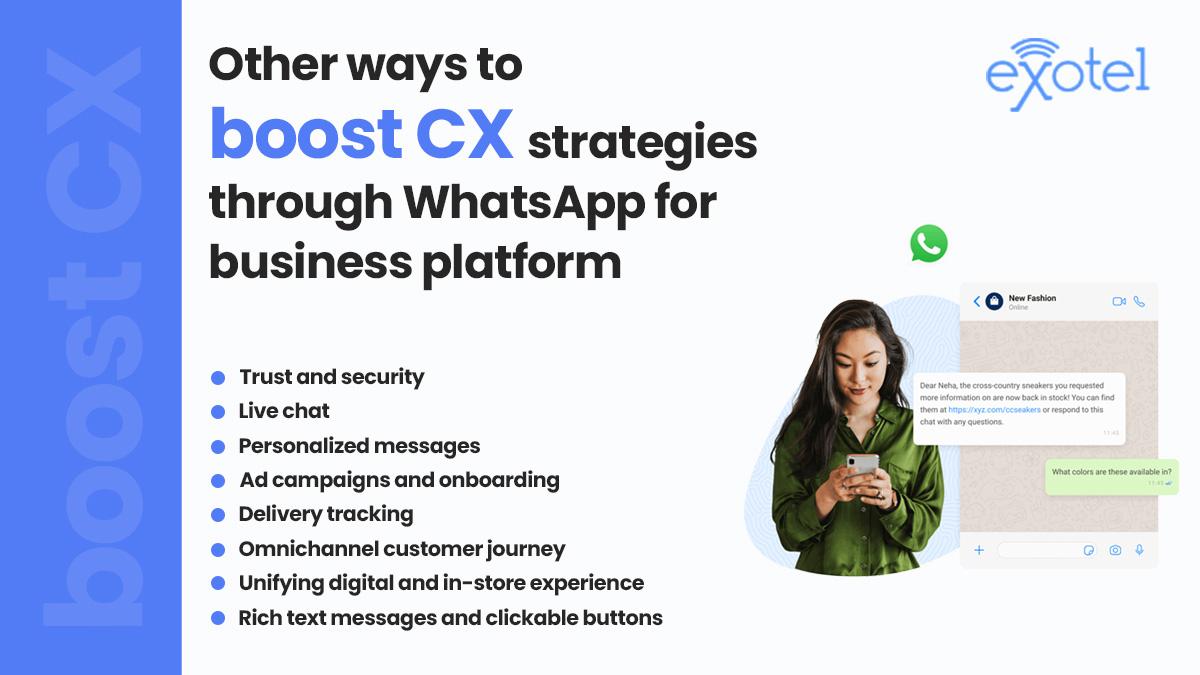 1. Trust and security:  These two aspects are the the key elements of a superior customer experience strategy and  the core of successful businesses. Thanks to the end-to-end encryption of WhatsApp, secure business messaging is ensured. You can use WhatsApp for business platform verification to signal customer trust.
2. Live chat: WhatsApp API allows the use of live chat integration so you can quickly interact with customers. Urgency is the name of the game when it comes to superior CX, and the nature of live chat and WhatsApp ensures the same. WhatsApp API minimizes the use of human agents by resolving customer queries via WhatsApp live chat and chatbots.
3. Personalized messages: In a digital-first era, businesses must personalize to stand out. WhatsApp for business and API helps you personalize broadcast marketing campaigns. For example, uou can create niche groups and segment customer listsbaesd on t their previous interactions.
4. Ad campaigns and onboarding: Whatsapp for business API helps you run automated campaigns to engage with potential customers. WhatsApp for business can also help businesses with onboarding customers by sending out greetings or welcome messages.
5. Delivery tracking: Use WhatsApp Business API to share live location for your customers. This is useful if you are an ecommerce business as your customer can not only track the delivery executive but also chat with them in case they have queries.
6. Omnichannel customer journeys: Integrate WhatsApp API ecommerce platforms so as to provide an omnichannel experience. An omnichannel journey is one where the customer experience is consistent and seamless across different channels. For instance, if a customer uses the company website to make a purchase, use the API to provide post-sales support, such as tips on assembling a product or collecting feedback. WhatsApp API also enables timely automated reminders for cart abandonments by customers.
7. Unifying digital and in-store experience: Although customers use a digital channel during their journey, they may sometimes consider an in-store experience. In such situations, with the help of WhatsApp for business platform, you can seamlessly connect the digital and physical experiences by allowing customers to book a slot with an assistant at the store.
You can also use WhatsApp API to help your store assistants to understand customer journeys,  shopping histories and preferences to offer tailor-made experiences at the store. Another example of linking in-store/on-site experience with the digital experience would be allowing customers to book a test drive via WhatsApp chatbot and offering them a personalized experience at the store.
8. Rich text messages and clickable buttons: WhatsApp API offers rich messaging features such as emojis, and stickers that make customer engagement fun and interactive. Also, it supports the use of clickable buttons that boost calls to action and quick replies for robust engagement.
Wrapping up
Customer experience is crucial in an increasingly digital-first world. Businesses need to reach customers on the channels they choose to shop, browse or transact. In such a scenario, access to a WhatsApp business platform comes as a boon for businesses to deploy chatbots, live agents and seamless customer support so as not to just boost CX but also enhance loyalty and, eventually revenues.